Book your next birthday or private party with Donna's Dolphins! Moms, you do not have to worry about entertainment OR cleanup! You and your guests will love the organized games such as S-E-A-H-O-R-S-E Basketball, Canoe Races, Mermaid Tails, Don't Fall in the Lava, and more! All of your guests will be tested for water safety at the beginning of the festivities, and if anyone's safety is a concern, we supply shark fin belts (wrap around floaters), so that everyone can have a great time! We also have a lifeguard on duty as well as a party coach or two to direct the celebration!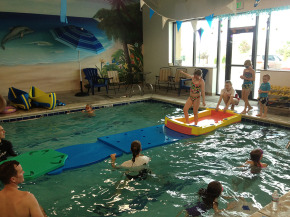 Your party will include:
*One hour of pool time (Limit one hour of time in the water for both 1 hour and 2 hour parties)
* Plenty of organized games so parents don't have to worry!
* Time for outside food and drink in our celebration area
* One free swim lesson for each party guest!
* One lifeguard and a two party coaches to supervise your guests!
Pricing:
$200.00 for up to 15 swimmers (1 hour)—PLENTY of time!!!
$300.00 for up to 15 swimmers (2 hours)—Even more time!
Please feel free to bring in outside food or drink. We have a Boriello Brothers Pizza place next to us that can deliver as well! Contact us at 719-487-SWIM (7946) to have the best birthday party ever!!!